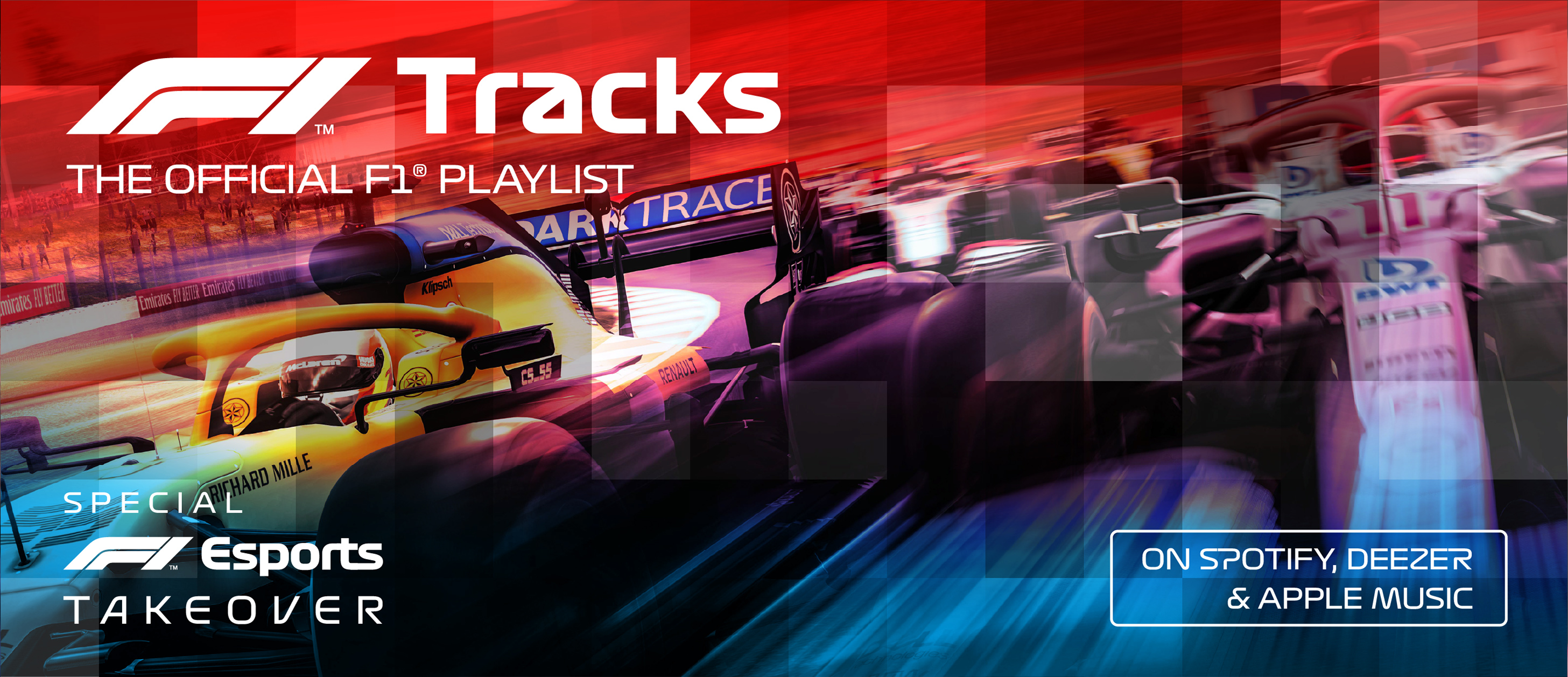 We all need a little inspiration on the daily. And what's better for that than the power of music?
To celebrate the premiere of this season's F1 Esports Pro Draft Reveal Show, presented by Aramco, F1 Tracks has opened its airwaves up to the virtual racers, with a brand-new playlist selected by the cast of 2020!
Thursday evening will herald the selection of the very finest racers from a pool of 45. The 10 official F1 Esports teams must each select one racer to join their three-person roster. This trio can then rotate and adapt during the 12-round championship, which begins in earnest in October.
F1 Tracks asked each driver to suggest their favourite tracks for the takeover, giving the playlist a fantastic depth of quality, variety, and unpredictability – much like the Pro Series itself.
PLAYLIST HIGHLIGHTS
From 90s grunge, to early 2000s pop-punk, classic rock, rap, and modern indie favourites, there really is something for everyone.
Queen's classic "Bohemian Rhapsody" features, as does shout-at-the-top-of-your-lungs favourite "Mr. Brightside" by The Killers. "Starboy" by the Weeknd is another top shout, an aptly-named title that will describe the feeling by any driver lucky to be selected in the Draft Show.
Other favourites include Mabel's "Don't Call Me Up", "Dancing in the Moonlight" from Toploader, Nirvana's timeless "Lithium", and the heroic ballad "Knights of Cydonia" from Muse.
VIDEO GAME SCORES
Video game music belongs in the same bracket as movie scores. Sometimes, they are just as memorable and moving as than chart-topping singles. The drivers, both signed and draftee, provided some answers on which video game original soundtracks (OSTs) get their motors running.
Red Bull Racing Esports' Pro Draft pick nominated the entire FIFA 13 soundtrack, citing the memorable selection of tunes. With some classics from Imagine Dragons, Miike Snow, Two Door Cinema Club and the long-awaited inclusion of Kasabian's mythic "Club Foot", it's not hard to see why they made this choice.
Cedric Thome picked the OST for F1 2012, Codemasters' official F1 game entry for the spellbinding 2012 season. While it's a few years in the rear-view mirror now, the soundtrack is comprised of several original songs crafted by Ian Livingstone. Whether it's the up-tempo thrill of "Weightless Wonder", the tense string arrangement of "Champs", or the simply stunning main menu score, it's an absolute classic. Not to mention, the game's intro sequence featured the backdrop of "AKA… What a Life!" by Noel Gallagher's High Flying Birds…
Two-time champion Brendon Leigh followed suit, selecting F1 2010, the game that started it all for Codemasters' F1 journey. Again, it's a mostly original soundtrack offering, with the pleasant melodies of the paddock evoking strong nostalgia for anyone who's played. UNKLE's remix of Ian Brown's "F.E.A.R." and "End Credits" by Chase & Status are cherries and icing on top.
Want to go back even further back?! Williams' Pro Draft selection chose TOCA Race Driver 2. "I chose this because of the nostalgia it creates, as it was the first racing game I ever played, almost a decade ago now".
Alvaro Carreton also took a trip down memory lane, and opted for the soundtrack to Grand Theft Auto: San Andreas. There are more than a dozen radio stations in one of Rockstar's most expansive games ever, a mightily impressive level of detail for a game launched in 2004. The classic rock offerings of K-DST, fronted by Tommy "The Nightmare" Smith, and the underground house extravaganza of San Fierro Underground with Hans Oberlander, show the ridiculous range on offer.
2019 Vice-Champion Frederik Rasmussen took a different route, choosing the original World of Warcraft soundtrack.
PIECE DE RESISTANCE…
To wrap things up, McLaren Shadow's Pro Draft candidate simply said: "The F1 intro song. It motivates me, and I really enjoy it." Fittingly, Brian Tyler's adored creation is the final on offer in the 80-song playlist, and no matter how many times it's played on a race weekend, it never fails to build excitement!
Make sure you sneak in a listen ahead of Thursday evening's Pro Draft Reveal Show, which goes out on Facebook, YouTube, Twitch, and on TV with select broadcast partners, from 19:30 BST!
The full F1 Tracks: F1 Esports Takeover playlist can be found on Spotify, Deezer and Apple Music:
Spotify: https://spoti.fi/2YmjQL3
Deezer: https://bit.ly/3hBqsgc
Apple Music: https://apple.co/3jkgArh
The post F1 Tracks: F1 Esports Takeover! appeared first on F1Esports News.