It seems like it was just two weeks ago that we were racing on the digital frontier. That's because it was! Fresh off of Event 2, we have our third trio of F1 Esports races just around the corner. Here's what to look out for, and where to do it.
LAST TIME OUT
Patience is a virtue. It's something Frede Rasmussen has lived by in his F1 Esports career so far, cautiously waiting for the opportune moment to strike. That he did in Zandvoort, passing home favourite and championship leader Jarno Opmeer with just two laps remaining. The Dane clocked his first win of the season, while Nicolas Longuet put on an eye-catching show, cleaving through the field on an alternate strategy to finish fourth.
Opmeer was back on top in the second race in Canada, a race that included an incident between him and with David Tonizza. Though the latter retired, Opmeer was able to continue his alternate strategy, and powered to victory after putting on yet another overtaking show with his superior grip towards the end of the race.
The aptly-named Red Bull Ring was host to round 6, and proved a happy, nay, ecstatic hunting ground for the eponymous team. Marcel Kiefer and Frede Rasmussen were rampant in Spielberg, and though Opmeer ran a superior strategy, he could not break through the solid wall of teamwork constructed.
Opmeer's lead has marginally increased, now holding a 27-point stranglehold over his contemporaries. Kiefer is still steadfast in second, with Rasmussen not far behind. Nicolas Longuet is a little further back in fourth with Dani Bereznay some distance back in fifth. Red Bull lead Alfa Romeo by 185-160 in the hunt for the team championship, with Renault heading up an almighty fight for third in the midfield. All 10 teams are on the scoreboard. Read our full report from the event here!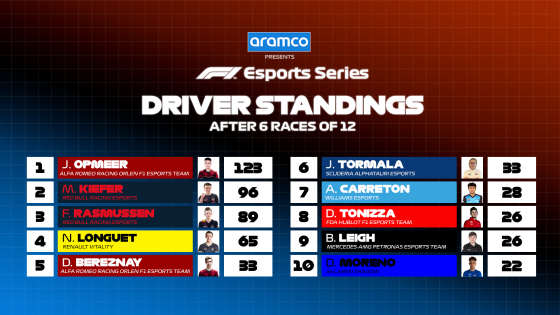 THE NEW CLASSICS
If Event 2 was a mix of modernity and tradition, Event 3 is firmly rooted in F1's rich heritage of European super-circuits. Silverstone is first up, and is loved almost universally for its fantastic high-speed corners that are a pure joy to rip through. It was a breakthrough event for Kiefer in 2019, taking his maiden series victory, whilst driving for BWT Racing Point F1 Esports Team. Now with Red Bull, he'll be looking to repeat the feat. And if he can match his 2019 position, Rasmussen would make it a 1-2, having also been on the podium last year. Dani Bereznay completed the rostrum, and will need to do the same again this year if he is to recover from a misfiring second event.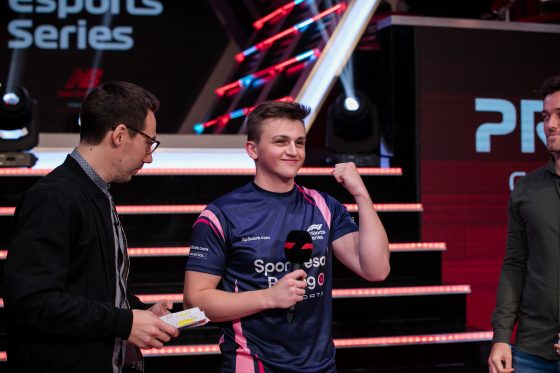 After that, Spa. And it's fitting we should mention Bereznay, because he's pretty famous for being the fastest driver around its 7.004 kilometre layout. The Hungarian ace duelled relentlessly with Rasmussen in 2019, with a last-lap pass timed to perfection to ensure he got the most out of the race. Opmeer was third, so it could be a familiar trio once again if old form is anything to go by.
The final race of the event will take us to Monza. Bereznay was relentless, making it consecutive wins on low-downforce circuits. But a Frenchman by the name of Nicolas Longuet stole the show, leading the race and finishing second in his ONLY appearance in the 2019 Pro Series. Those 18 points helped Red Bull to their teams' championship, and though he's with Renault for this season, the emphasis on scoring for the team will be just as crucial; he has put 60 of Renault Vitality's 65 points on the board so far. Other than a non-score in China, Longuet has recorded a top-five finish in every race this year, including a silver medal in Hanoi. Tonizza completed the podium in 2020, so a strong home race will be high on his wishlist, before his hope of retaining the title begin to fade.
STAT ATTACK
In its short history, we've seen some cool things in the F1 Esports Pro Series. Several records and notable achievements have caught our eye so far in 2020, so here are a few worth keeping an eye on…
RAGING BULLS: Red Bull Racing Esports' 1-2 finish in Austria was the first ever for the team in F1 Esports history – a huge surprise given their title win last season.
DOUBLE-TIME: Jarno Opmeer has the exact same number of points after six races in 2020 (123) as he did after a dozen races in 2019! He has more than twice his points tally from this point in the season last year; 123 compared to 59.
RULE OF THREE: Just three drivers have made it to Q3 on every occasion so far in the 2020 Pro Series: Opmeer, Rasmussen, and Kiefer.
FIVE TONNE: Lap 4 of Italian round of the championship will be the 500th lap in F1 Esports Pro Series history.
TROPHY HOG: Jarno Opmeer has scored a podium in every single race so far in the 2020 Pro Series, an unprecedented streak of six-in-a-row
PODIUM SPECIAL15T: Frede Rasmussen grabbed his 15th Pro Series podium last time out, making him the all-time leader in the competition.
STREAM TIME
Once again we have a total of four streams on show over the two-day event. Qualifying for Rounds 7-8 will be shown live on Twitch and YouTube from 15:30 GMT, with highlights of this, plus both races in full, from 19:30 on Twitch, YouTube, Facebook, and on TV with our broadcast partners around the globe.
Thursday runs identically, although a recap of Wednesday's action will precede the live showing from Monza, which will be the centrepiece of the show. As we move deeper into this championship, we're getting even more excited, and we hope you are too. Enjoy the racing!
The post 2020 F1 Esports Pro Series Event 3 Preview appeared first on F1Esports News.